Huffman & Colleton Families
Article:
Torre's Great Great Grandfather, John Colleton, Makes Bricks
View:
Huffman & Colleton Genealogy Message Board
---
---
I am actually grafted onto the Huffman family tree, since my Mother's Dad, Manus Huffman, is actually not her biological father, but he was in all ways a fair and loving dad, and the only grandfather I ever knew, and I have never felt less-than a full blooded relative and proud member of the Huffman clan.
---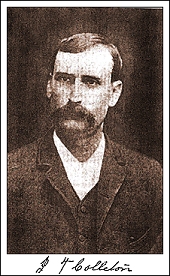 John Thomas Colleton, my Great Great Grandfather, is the anchor of this part of the family tree.

He was a brick maker who settled in Bellville, Texas.

Since most of the historical brick buildings in that town were built with Colleton brick, and much of it was laid by Colleton and his descendents, he appears prominently in a few published histories of the town, and on several Texas historical markers, and Websites related to the area. He married Frances Hutchens, which also put him in a few Texas history books, since when he did, he married into the Maxwell and Williamson Families - Pioneer families of the Austin County.

Some of those books:
From Jamestown to Texas: A History of Some Early Pioneers of Austin County By Betty Smith Meischen
A history of Texas and Texans By Frank White Johnson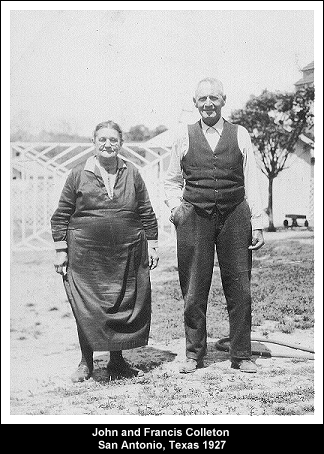 At right is another picture of John, this one with his wife Frances, my Great Great Grandfather and Grandmother.
This picture had San Antonio written on the back, but doubts to the veracity of the location have surfaced.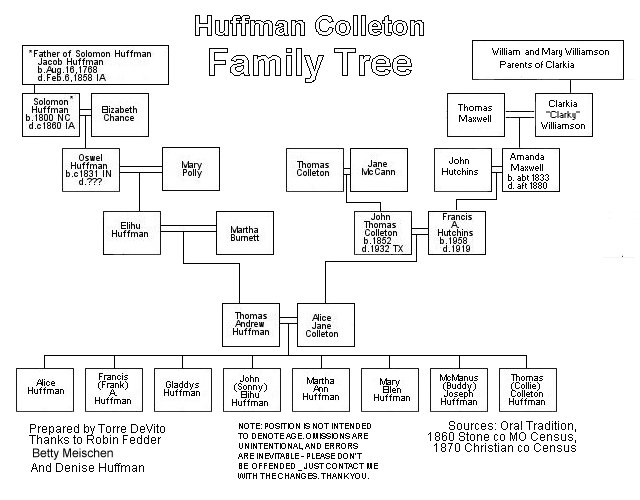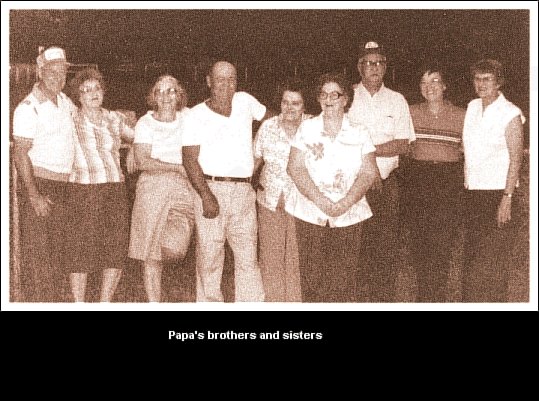 Family Lore:
My cousin Mellisa (Sliva) McFarland passed the following two gems on to me.
1. Our Grand Aunt Mary Ellen had gone to visit her Aunt Maud one evening and heard the front screen door open and close. She said, "Aunt Maud - someone is at your front door." Aunt Maud replied, "That's just Papa (Our Great Grand Aunt Maud's dad, our GGGrandfather) coming home for a visit."
2. Have you heard the "old wives tale" about when a bird is in the house someone is going to die? Well the day that our Great Grand Aunt May died a bird flew into the house and landed on her bedpost!


Here is an excerpt of the book "A history of Texas and Texans" by Frank White Johnson

John T. Colleton. In the business of contracting and building the chief factor in the Bellville community for many years has been John T. Colleton, whose home has been in Texas since the fall of 1875. The record of his work even briefly stated indicates successful ability and a long continued and increasing confidence in his skill, and for the practical work of his life he is more than a repre- sentative citizen of Texas.

After coming to Texas Mr. Colleton spent two years at Austin, where he was the manager of a brick yard for Michael Butler. From Austin he came to Bellville, where his first employment was as foreman on the addition to the old courthouse for Con- tractor Rutherford. Thirty-seven years ago, when he first saw Bellville, the old courthouse was the only brick structure in the town, and around it were grouped a population of about 800 people. Individually he has done a great deal for the up- building of this community since then. After his work as foreman for Mr. Rutherford he began taking contracts for himself. His first building as a contractor was the Springfield drug house, and under contract he has erected every brick building at Bellville except two, and for twenty years made all the brick that went into the buildings of this locality. He himself opened his brick yard, being an expert in that industry, and only abandoned it in 1901, partly on account of competition from the large brick companies and also for the fact that the demands made upon his time and resources as a builder made the step advisable.

Among recent work performed by Mr. Colleton was the construction of a third story to the high school building, the first two stories of which he built a number of years ago. He also erected a school- house in Sealy and all the other brick buildings in that town except three. A large amount of contract work has also been done in Brenham, including the depot and the residence of Mr. Johnke. Another example of his skill is a two-story brick bank in Brookshire. He has apparently made a specialty of bank vault building, and has done much of that class of construction all over this section of the state. Mr. Colleton during his residence at Bellville has aided with his money in the promotion of the oil mill, in which he is a stockholder, but outside of business accomplishments has not been a factor in public life from a political standpoint.

Mr. Colleton came to Texas from Iowa. His old home was Decorah, Winuishiek County, where his parents settled when he was eight years old. Mr. Colleton was born in Lancashire, England, April 5, 1852, and early in 1853 the family came to the United States, living for a few years at Kewanee, Illinois, before going to Iowa. His schooling was derived from the institutions at Decorah, and he learned his trade there with the Alsup Brothers, well known over Iowa and Illinois as contractors. Brick laying and making and stone cutting were all included in his mechanical accomplishments, and he continued with the Alsup firm from the age of fifteen until he was twenty-four. Frank and William Alsup of that firm went to Chicago just after the fire of 1871 and established a brick yard, placing Mr. Colleton in charge of the brick machine. The first brick work done by that firm in Chicago was the building of the McCormick Reaper Company's new home at Blue Island Avenue. Mr. Colleton was in Chicago for two years, and then returned to Iowa and continued to be associated with the Alsups until he came south.

Mr. Colleton's father was Thomas Colleton, who was born in the north of Ireland and died in 1862 while on a furlough home from the army. He enlisted during the first year of the war at Decorah, Iowa, in Company D of a regiment raised in that locality. While doing trench work in New Orleans he contracted chronic diarrhea and dropsy, and that was the cause of his death. Thomas Colleton married Jane McCann, who died in 1890 at the age of seventy-five. John T. Colleton is now the only member of the family to bear the Colleton name. His father had two sisters: Margaret, who married Bryan Casey, and who died in Chickasaw County, Iowa, leaving a family; and Jane, the other sister, who married Thomas King and also died in Chickasaw County, leaving two children. Mr. Colleton was married in Bellville in 1880 to Miss Frances Hutchens. Her father was a Texas farmer, and her mother's maiden name was Martha Maxwell. Mrs. Colleton is one of the four children surviving out of four sons and four daughters. To Mr. and Mrs. Colleton have been born three children: Miss May; Alice, who married Thomas Huffman and has two children, John and Thomas; and Maud, who married Henry Kenter of Bellville, and has a daughter named Elizabeth.
[end of excerpt]
Colleton name in Austin County Cemeteries:
Colleton Frances A. 13 January 1858 24 April 1919 Interred: Pilgrim's rest cemetery
Colleton J. T. 5 April 1852 31 December 1932 Interred: Pilgrim's rest cemetery

Huffman name in Austin County Cemeteries:
Huffman Alice J. 22 October 1886 1 December 1974 Interred: Pilgrim's rest cemetery
Huffman Francis A. 13 July 1920 10 October 1990 Interred: Pilgrim's rest cemetery
Huffman John E. 13 July 1912 9 April 1981 Interred: Pilgrim's rest cemetery
Huffman Laura Atwood 1 November 1919 28 September 1995 Interred: Pilgrim's rest cemetery
Huffman Manus J. 24 December 1916 13 January 1990 Interred: Pilgrim's rest cemetery
Huffman Sharon Kay 7 August 1948 18 August 1981 Interred: Pilgrim's rest cemetery
Huffman Thomas A. 22 March 1885 28 September 1962 Interred: Pilgrim's rest cemetery
Huffman Willie M. B. 30 December 1921 4 October 1980 Interred: Pilgrim's rest cemetery
Kenter Name in Austin County Cemeteries:
Kenter 1921 Interred: Pilgrim's rest cemetery
Kenter Alma M. Diedrich 13 December 1892 2 August 1949 Interred: OK(A) cemetery

Kenter Annie 23 January 1862 11 December 1931 Interred: Pilgrim's rest cemetery
Kenter Benhard John, Jr. 13 June 1894 8 December 1961 Interred: OK(A) cemetery

Kenter Edward Alvin 24 August 1922 26 May 1923 Interred: Pilgrim's rest cemetery
Kenter Eva Lorraine Rasmussen 7 June 1916 4 December 2003 OK(C)
Kenter Franklin B. 7 December 1915 11 April 2005 Interred: OK(A) cemetery

Kenter Gus No dates Interred: Pilgrim's rest cemetery
Kenter H. B. 8 September 1859 25 August 1932 Interred: Pilgrim's rest cemetery
Kenter Henrietta No date given 10 August 1889 Staehle
Kenter Henry J. 3 January 1888 6 December 1968 Interred: Pilgrim's rest cemetery
Kenter Henry John Jr. 29 September 1917 7 April 1919 Interred: Pilgrim's rest cemetery
Kenter James Benjamin 7 October 1919 17 June 1920 Interred: Pilgrim's rest cemetery
Kenter Leila Bell 29 July 1912 23 July 1913 Interred: Pilgrim's rest cemetery
Kenter Lenora Hueske Klump 4 February 1902 5 March 1977 Interred: OK(A) cemetery

Kenter Leslie Fred 30 September 1918 16 November 1975 Interred: OK(A) cemetery

Kenter Marion Eugene 20 September 1925 10 April 1997 Interred: Pilgrim's rest cemetery
Kenter Maude 22 November 1889 4 March 1978 Interred: Pilgrim's rest cemetery
Kenter Mildred Theresa 20 July 1927 23 July 1927 PR