Santora & Cassetta Families
View:
Santora & Cassetta Genealogy Message Board
---
My Great-Grandfather was Nicholas (Nicola) Santora. He was born in 1861 in the Campania region of Italy and grew up in a town named Piedimonte d'Alife in the Matise mountains east of Naples (the town has since been renamed Piedimonte Matise). He at least studied to become a Catholic Priest, though family history is unclear as to whether he left the priesthood, or changed his mind before-hand, either way his father was unhappy with his decision, and it caused a rift between Nicholas and his family. What is certain is that he met my Great-Grandmother Grazia (Grace) Cassetta in town named Summonte, in the province of Avillino, also in the Campania region about 120km (75 Miles) south of where he grew up.
Nicola found work as a confectioner, but times were difficult. He and Grace were married around 1899 and had a daughter, Olga (one of my favorite Grand-Aunts) in 1900. Olga is an unusual name for an Italian (which turned out to be a blessing because it made finding my families immigration records easier, though I would love to know why that name was picked). It certainly flew in the face of Italian tradition where first-born girls were named after their paternal grandmother and first-born boys were named after their paternal Grandfather (second born children were named after their mother's parents, and children born after that were named after the father and mother's siblings respectively).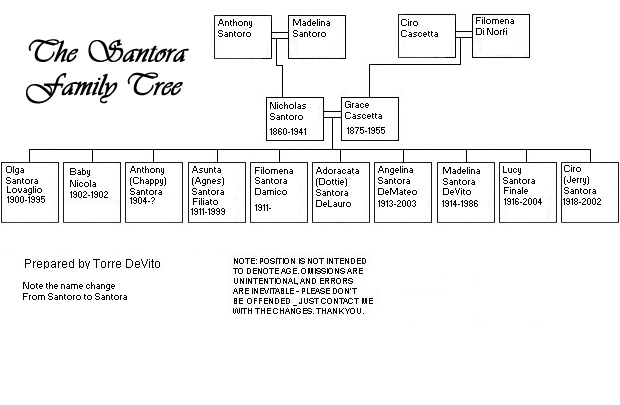 Early in the fall of 1901 financial problems worsened and Nicola and Grace decided that they would start a new life in the United States. One of Nicholas' friends had immigrated to New York and had sent back wonderful stories of life in New York, and had secured work, or the possibility of work for Nicholas at a bakery as a candy-maker. Grace and Olga would move back to the nearby city of Avellino with Grace's parents, and Nicholas would establish a place for them in America. Their parting was bittersweet, a new life in a new country lay ahead of them, and they looked ahead with hope and fear, but a year of separation lay between them. A few days before Nicholas was to depart, Grace conceived their second child. Nicholas traveled with Grace and Olga to Avellino, and the following morning he made the journey north to the bay of Naples.
In Naples Nicola boarded the ocean liner "SS Fürst Bismarck", A huge steamship of the Hamburg America Line, with three large funnels billowing steam. Nicholas was listed in the ship manifest as "Nicola Santoro, Male, 40 yrs old, married, calling or occupation: confectioner, of Summonte, Italy", and his sponsor was listed as Br in law Vin. Silvestri of 82 Mulberry St. Three lines down a passenger named "Vincenzo Silvestri" is listed and it indicates he is an American Citizen. I also note that 82 Mulberry Street is listed for the two people between Nicholas and Vincenzo Silvestri, including someone bound for Philadelphia, and that the passenger immediately preceding Vincenzo lists a "brother Emilio". Perhaps this indicates that these four were traveling together, but the acquaintance might very well have been new, and fairly casual. I can imagine the recorder not understanding my ancestor, and holding up the line, and this Vincent Silvestri saying "I will vouch for him, I'm an American citizen" to speed things along. Further investigation turns up a Vincenzo Silvestri who owned a Fruit Stand that lists the address as 82 Mulberry(PROCEEDINGS Board of Aldermen THE MUNICIPAL ASSEMBLY The City of New York, January 8 to March 26, 1901). Nicholas would have traveled in the lowest of 5 decks, in a large compartment housing single men. On the afternoon of the 5th day, November 19, 1901, the SS Fürst Bismarck pulled into Manhattan Bay, Nicholas and the other passengers stood on deck where they were greeted by the Statue of Liberty, that had finally been assembled just five years earlier. The New York Skyline stretched before them - a much more horizontal skyline than today - with the tallest building being Trinity Church, as ground breaking had only just begun for New York's first skyscraper, the Flat Iron Building. Upon reaching Ellis Island, the ship was unloaded. The process, was a slow one. There was such a large crowd inside that Nicholas had to wait to enter the building. Soon enough, however, a doctor inspected him, and gave him a clean bill of health, his paperwork was inspected and Nicholas was released from Ellis Island and transferred to the lower end of Manhattan Island in a riverboat.
If Nicholas proceeded to the address on his papers, 82 Mulberry Street, or to the Ferrara bakery a few blocks away, he would have arrived in a section of the city that is known as "Little Italy". He would have made his way from the pier to Broadway, and then Canal Street. Of the people he passed many would have been Irish, Chinese, Jewish, and a few black people, and he would have seen more diversity of backgrounds in a day than he was likely to have seen in a year at home, but when he got to Mulberry street he would have felt quite at home surround almost entirely by Italian immigrants, and once he reached Mulberry he would have been surrounded by Neapolitans and Calabrians. There he would have passed an Italian Cigar Store at 34 Mulberry Street, an Italian Café at 36 Mulberry Street, an Italian Barber shop at 40 Mulberry Street, A well kept Wine Store and Italian Café at 42 and 44 Mulberry Street. He probably would have quickly noticed that the houses on his side of the street were numbered with even numbers, and across the street the house numbers were odd. In the street there would have been hand carts with potatoes, and horse drawn carts with boxes of vegetables, and people everywhere, standing in the doorways, walking on the sidewalks, walking in the streets, and even hanging out on the fire escapes above him. The fire escapes would have been mostly covered with wooden slats so that people could put out chairs and the legs wouldn't fall through the grating. Many of the storefronts would have had bright colored canvas awnings. Two blocks further along he would have reached number 87 Mulberry street, if this was indeed his destination, if he even made this trip. Indeed there is no longer any way of knowing where he went, or what he did upon first arriving in the United States. Family tradition says he worked at the Ferrara bakery, so likely he would have settled fairly near to its 195 Grand Street address, about two blocks from the 87 Mulberry Street address on his papers, so perhaps he did end up in front of 87 Mulberry Street that evening, in a new country, with a strange new future awaiting him, thinking to himself "So this is home."

Back in Avellino Grace waited to join Nicholas in America. She was pregnant and caring for her two-year-old daughter, Olga. She gave birth to her son in August, and named the boy Nicola after his father.
On November 2 of 1902, a few days shy of a year after her husband had left for the United States, Grace took her daughter Olga, her two-and-a-half-month-old son Nicola, and her Sister Assunta to the port of Naples where they boarded "The Sicilian Prince" I know the dates from the manifest, as for my great-grand-aunt Assunta, she is crossed out in the manifest, and appears in the manifest of the Sicilian Prince again in December of 1902, again crossed out, and she appears yet again and finally appears to have been a passenger aboard the Sicilian Prince in May of 1903. All of her entries list 60 Mulberry Street as her destination, the first and last list "my brother-in-law, Nicola Santoro" as her sponsor, but the December listing notes "my sister Gracia Cascetta" Grace, Olga, and baby Nicola's records also state 60 Mulberry Street, and at this writing, I believe it is the actual address of a forgotten apartment that they lived in before moving to Brooklyn.
Now for some mysteries. When I discovered Grace had a sister Assunta, only one of the Santora children was still alive, My Grand-Aunt Lucy, and she did not remember ever hearing about the Mulberry Street Apartment or an Aunt Assunta. Aunt Lucy's sister, Agness was actually named "Assunta" so we can only surmise that she was named after this missing Assunta Cascetta. Also, the discovery of the 2 month old Nicola didn't quite agree with my memory of my Grand-Aunt Olga's story of a child that was born and died on the trip. Unfortunately Aunt Olga was no longer with us, so I couldn't ask her. Now it is possible that I remembered the story incorrectly, or that my Aunt Olga had only her memories from when she was two-years-old to base her story on. I imagine it was not a subject that was discussed at any length when she was older. What is certain is that if baby Nicola survived the trip, he did not live very much longer, and in light of Aunt Olga's story, we suspect he died at sea, though an obit dated December 21, 1903 lists a 2 year old Nicola Santoro of 67 James Street, Manhattan.
Well, I hate to end the story on such a sad note, family lore says that Great-Grandpa worked for the Ferarra bakery, and eventually tried to open his own confectionery store in Brooklyn, but the protection-rackets ate up all the profits and his children ate up all the candy.
====================================
NOTES:
Assunta Cassetta + Michele Pignaletti, M. 06 JUL 1905 Manhattan, NY

Assunta's Father: Ciro Cascetta
Assunta's Mother: Filomena Di Norfi